Best Halal Catering in Mississauga

SultanXpress offers a casual yet refined experience through a meticulous fusion of flavourful food, a fast pace, and friendly service.
Our team of culinary experts is dedicated to crafting the most authentic and delectable Persian/Middle Eastern Halal dishes, made with the freshest ingredients. We pride ourselves on delivering impeccable service, ensuring that each meal is created with the utmost care.
Real Cooking, Delicious Food Try Our Family Packs Today
All family packages come with your choice of fries or rice, salad,
hummus and charbroiled vegetable skewer
Deliver With
Deliver With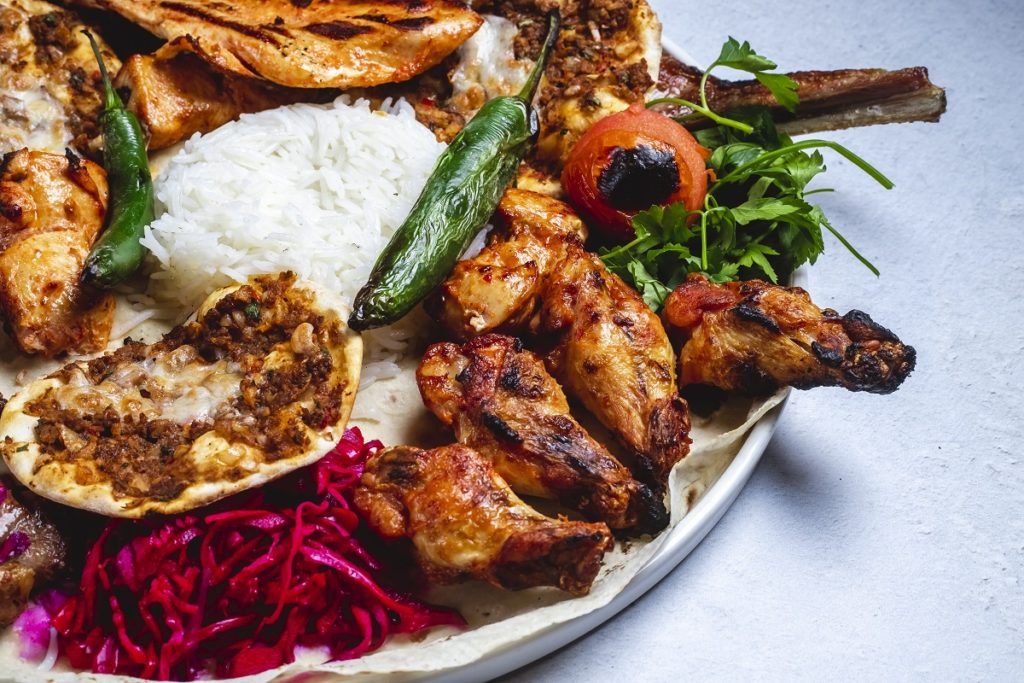 Fresh, Healthy, & Halal

Indulge in our dishes made with only the freshest, healthiest, and Halal-certified ingredients. We take pride in sourcing high-quality ingredients to ensure that every bite brings a burst of flavour and nutrition. Trust us to serve you food that not only tastes amazing but is also good for your body. Catering Services
For All Your Events

Hosting a dinner party this weekend and wondering what to serve? Is your schedule so busy that you don't have time to cook?
You can't go wrong with SultanXpress! Our mouth-watering dishes are guaranteed to satisfy your guests. There is no need to worry about your event. We'll take care of the food, so you can focus on enjoying time with your guests.
We've got delicious food and bursts of flavour in store for you!
SultanXpress has an eye for perfection. This is reflected in our flavours and service as well. Everything we do is tailor-made to fit your precise requirements, from presentation to timely delivery.
Choose from many delicious meals on our catering menu:
At SultanXpress, we prepare all of our meals from scratch. Our team of talented chefs hails from diverse backgrounds, including Persian, Mediterranean, and Middle Eastern. This allows us to provide a range of deliciously authentic dishes that are sure to satisfy your taste buds.
Indulge in the rich, bold flavours of our cuisine and savour each bite. Our chefs have perfected their craft, ensuring that every dish is made with care and attention to detail. You'll love the unique blend of spices and ingredients that come together to create a truly unforgettable dining experience.
Whether you're in the mood for a hearty meat dish or a light vegetarian option, we have something for everyone. Our menu is packed with a variety of mouth-watering options that are sure to impress. Come dine with us and discover the true taste of authentic Middle Eastern cuisine.
We don't stop at just having great tastes; our prices are also budget-friendly.
We're proud to offer a service that is both budget-friendly and enjoyable. We promise to keep things simple, straightforward, and, most importantly, delicious.
Our Delivery Service: Exactly What You Want, When You Want It!
Let us make your special occasion a breeze with our speedy delivery services. No need to worry about extra fees or picking up the food yourself—we'll bring it straight to your doorstep. And the food will be hot and fresh exactly when you want it. We'll make sure your guests don't have to wait to dig in, so you can enjoy a stress-free event.
The Areas We Serve Near You
We offer our catering services in Etobicoke, Mississauga, Oakville, Milton, and Toronto. This includes residential areas and commercial facilities as well. Whether you're having a dinner party at home or an office dinner with a Middle Eastern theme, we've got you covered.
Place Your Order Today!
Are you craving some delicious Middle Eastern meals?
Look no further! Simply give us a call at 905-361-3999 and place your order. We'll have your food delivered on time.
If you have any questions or want more information, feel free to visit our website or send us a message. Our friendly team of experts will be more than happy to assist you and answer any questions you may have. Order now, and you will be delighted!
offer
Have Your Catered Meals Delivered!
For your convenience, we offer a fast delivery service. We will bring your meal hot and fresh to your doorstep exactly when you need it, ensuring everyone's satisfaction.